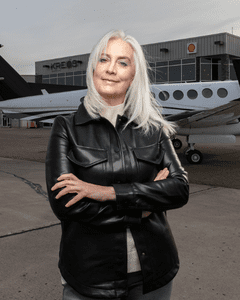 Karen Lloyd
Chief Operating Officer
Karen "KL" is delighted to be a part of the dynamic Kreos team. Always driven to learn new things, she comes from a strategy and marketing background across five different industries: mining, telecommunications, online payments, executive training and banking. Most recently, Karen managed a team of contract and inventory specialists to seamlessly fulfill global uranium sales for Cameco Corporation. Karen is a team-oriented leader who invests in others to develop and grow human capacity to achieve results.

Karen joined Kreos Aviation in April 2021 and is learning aviation-speak with the help of the talent around her.  As Chief Operating Officer, Karen oversees all aspects of the Kreos operations including asset management, strategic alliances, flight operations, maintenance, fuel operations, marketing and sales, business development and management of the FBO's. When not in the hangar, Karen can be found at the Pilates studio, dog park or travelling!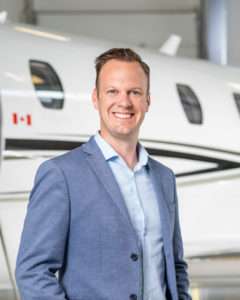 Rob Johnston
Business Development
Rob or "Rojo" as he seems to be better known by, joined the Kreos team in 2017. He has spent his career with various organizations helping them achieve their sales/marketing and business development goals. He is always looking for ways to provide value in the business community. He desires to be genuine and authentic to all.
Rob is involved with multiple charitable organizations in the city including Crime Stoppers and the Zoo Foundation. He also can't wait for his son to get older so he can get back to having a respectable golf handicap.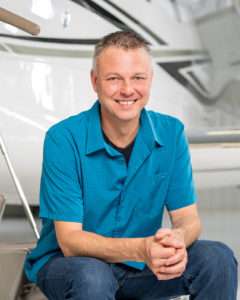 Brian Denesyk
Operations Manager
Brian has been with KREOS Aviation since 2010 and was appointed as Operations Manager in June 2011. Brian has over 20 years of experience in transportation and logistics, and has been a commercial pilot since 2002.
As Operations Manager, Brian is responsible for safe flight operations and regulatory affairs, and is principally responsible for the development and implementation of the Company Safety Management System. In layman's terms, he works with Transport Canada to meet and exceed their rules and expectations. Brian has 5 years of experience as a jet captain on the Citation XL.

When not flying, you can catch Brian in the office, locating the best lunch deal for each day of the week.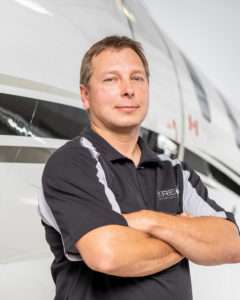 Trevor Lepitzki
Director of Maintenance
Trevor was one of the very first employees ever hired at Kreos. Trevor is the Director of Maintenance and is responsible for overseeing Central Aircraft Maintenance (CAM). This includes regulatory compliance, scheduling and tracking. Trevor graduated from Southern Alberta Institute of Technology with a diploma in Aircraft Maintenance Technology. He has an incredible attention to detail, no wonder he was a goalie in junior hockey.
Living at the lake gives Trevor and his family lots of time to enjoy their passion for the outdoors.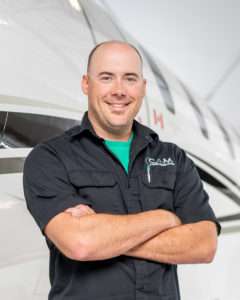 Bartt Timms
Quality Assurance Manager
This is the guy you want making sure our aircraft are safe. Bartt joined Central Aircraft Maintenance (CAM) in 2009 as an Aircraft Maintenance Engineer. His current role within CAM is Quality Assurance Manager. Bartt has been instrumental in the growth of CAM, bringing new approaches to problem solving and finding efficiencies.
When Bartt isn't leading his team at CAM he enjoys camping and fishing with his family and hunting in the fall.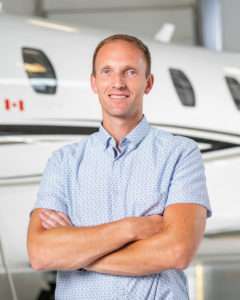 Darren's passion for airplanes started nearly 20 years ago when he was a gas jockey at the Aerocentre. Darren is a Captain on both the Citation 560XL and the King Air 350 and has over 6000hrs of flying time. "Hammer" has been Chief Pilot of Kreos since May 2015. He came to Kreos in May of 2012 as a captain on the King Air 350.
Darren is a local kid, growing up in the Borden, SK area. When Darren is not flying or in the office you will find him playing hockey, golfing or camping. Darren's favorite pastime is enjoying a King Crab feast, anywhere….anytime.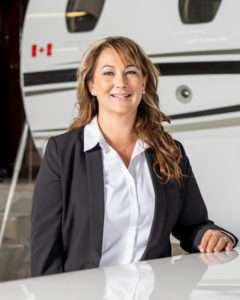 Sherry Franks
Regional FBO Manager (Saskatoon)
Her smile is infectious and her attention to detail is precise. When you walk into the FBO (fancy language for customer lounge) Sherry will be the happiest person you meet all day. Whatever you need during your time spent with Kreos, she will work hard to bring it to reality.
Sherry is also one of the first employees hired at Kreos. She helped design the interiors of both our Regina and Saskatoon locations. Her calm and organized demeanor will help you be efficient with your time while at Kreos and get all your questions answered quickly and correctly. Sherry loves to travel and learn about what else the world holds for her and her family.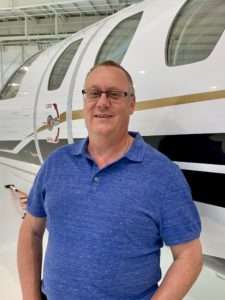 Aaron Resch
Fuel Operations Manager
Aaron – better known as "Chico" – is our resident aviation fuel expert and FBO Manager at our Regina location.
Chico is never afraid to speak his mind – and his matter of fact approach makes him a key driver in getting things done at Kreos.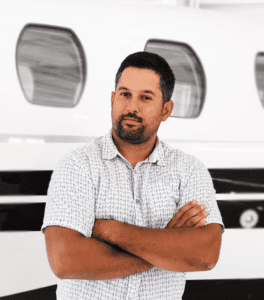 Scott Rodonets
Manager of Special Projects
Scott's portfolio is one of the largest at Kreos. As General Manager of the FBO and Fuel world, he works closely with Chico and Sherry to ensure smooth operations in both cities. He also keeps an eye on the many buildings and pieces of equipment that keeps Kreos going. And, if you are in the market for purchasing an aircraft, this is the person you want to talk to.
If you're lucky, you might also get the chance to fly with him – he's one of Kreos's longest employed pilots!